The whole executive committee of the Icelandic Football Association has resigned after being accused of covering up a sex scandal involving an international player.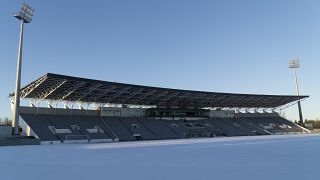 A thin layer of snow covers the Icelandic national football stadium, the Laugardalsvollur, in Reykjavik on Monday, Nov. 27, 2017
The association's president had already resigned on Sunday, following criticism that he had downplayed sexual assault allegations.
However, following a nearly five-hour emergency meeting, the remaining members of the committee stated that they, too, would be stepping down from their positions.
"This result is in line with slensk Toppfótbolti's challenges, club representatives' wishes… and community pressure," according to a statement.
In the next weeks, an extraordinary session will be held to elect a new president and executive committee.
After being sexually abused and harassed by an Icelandic international player at a nightclub in Reykjavik in September 2017, a 25-year-old lady told state television that she had filed a complaint.
The woman stated that the player admitted to the incident, apologized, and compensated her financially.
Despite emails and testimonials showing the contrary, Iceland's Football Association (KS) has experienced flak for denying that the incident was known at the highest level of the organization.
Guni Bergsson, the president of the KS, publicly apologized and stated that he believed it was an instance of physical abuse, but resigned after numerous crisis sessions.